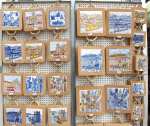 Azulejos or ceramic tiles can be considered as one of the most original contributions of Portugal to the universal culture.
Having a long tradition in Portuguese Architecture, Azulejo tiles were first introduced in the Iberian peninsula by the Moors in the 14th Century. The word Azulejo originates from the Arabic word al zulayj, which translates to "polished stone".
These artistic tiles have been used to cover the walls of the Palaces of Kings and Nobles, Churches and Convents for over five centuries.
Tile mosaics can be found in churches & chapels, hospitals, public buildings, parks, fountains, esplanades, police stations and military installations, aquariums, museums, coffee shops, bars, clubs, storefronts, drugstores, viaducts & bridges, subway stations and in railway stations for tile cladding purposes, decorative and artistic use.
Many good books highlighting the artistic value of the Portuguese tile have been published, and a non-exhaustive list is included below, should you want to deepen your knowledge on the subject.


If you have the opportunity, while on a visit to Lisbon, I would vividly recommend stopping by the Tile Museum so that you can have a live experience in the art of Azulejo, see the history of Azulejos in Portugal from the 16th century to the contemporary era, take pictures as a souvenir or even order vintage tile panels, ceramic address tiles and personalized tiles.
I'm including a link to a photo gallery displaying the use of Portuguese tiles in all their splendor (as you can see, I'm not too shy in promoting my photos), so have a look, knowing that comments are appreciated.
Tagged as: Azulejo, Azulejo Tiles, Portuguese Tiles