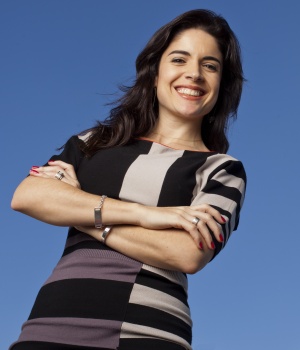 Young, educated and well- traveled, Roberta Medina, is president of Dream Factory and responsible for the organization of the Rock in Rio in Europe music event.
Living in Portugal for nine years, this outgoing Carioca (native from Rio de Janeiro, Brazil) told us about how Brazilians perceive Portugal (and how telenovelas, or soap operas are changing that), how it is good to live in Lisbon and what we can do to promote our city in the land of Sun and Samba. 
What made you land in Lisbon to do the Rock in Rio (RinR) event?
When my dad, Roberto Medina, decided that he wanted to repeat RinR, ten years after the second edition (which took place in Rio in 1991, while the first edition was in 1985), he had a dream to use the event as a way of mobilization for a better world – and he wanted to do it worldwide. A fellow Brazilian who lived here insisted that there should be a RinR in Lisbon: "Roberto, you have to do it." But RinR in Rio de Janeiro was already something with such a complexity, that the dream stayed grounded. After having finished the year 2000 edition, we started to work on 2002's edition, sponsored by America Online-AOL. Then came the 9/11 attacks in 2001 and everything came to a halt. We were forced to look for alternatives. Roberto told this guy: -"if you can land an interview with the mayor, in which basic structures and services such as cleaning and security can be assured, I'll fly to Lisbon."
We thought that this meeting would never happen, but two weeks later it got scheduled.
And things went well …
Roberto arrived here, some initial meetings took place with the Town Hall which started a straightforward process. After a protocol of intent was agreed, we all came to Portugal to seek sponsorships. The event was based on three pillars: a)with local governments, where infrastructure and basic services of the city function in an exchange basis, because the RinR is a tool to promote the city; b) with media partners, in which we deliver content and they brand and promote the event; c) sponsors who deliver the sponsorship and use the contents and the event to give visibility to their products. Once we gained critical mass, I came in with the production team, and together we began the preparation phase including the booking of artists. 
At that time, did Roberta know Lisbon?
No. Brazilians are very US-centered, they grow up looking to Los Angeles, New York and Disneyland. We study the history of Portugal until 1500, until the age of eleven, but then we lose the focus on Portugal. When we started talking about coming to Portugal, it was like: "what is it? Is it in Europe?" Europe was not in our lives. My paternal grandfather was Portuguese and he left to Brazil at a young age, not having any European-Portuguese accent. He died and I don't have this memory of him as Portuguese. My family on the maternal side was also Portuguese, but I had never acknowledged this fact. It was only when I traveled to Portugal that everything came in as an avalanche. I realized that there are a lot of things in the lives of Brazilians that are related to Portugal, but we don't realize it. When I arrived here I had this typical misconception that Brazilians have of the country: Portugal is something very old, frozen in time, around the year 1500, with old ladies wearing head scarves and mustaches. 
You got it wrong?
My first minutes in Lisbon, on the way out of the airport were on the Gago Coutinho Avenue and soon I felt how my thoughts had been misguided. I was expecting to come to a place with ​​old houses, and now here I was, in a normal avenue discovering a modern Lisbon. I later found a lot of things culturally similar to those in Brazil and vice versa. Because your people arrived there and left us everything they brought. But then came the physical distance between populations and we forgot about Portugal. On the other way around, quite the opposite happened: the soap operas started to show up here and people got to know all about Brazil. 
And now you spend more time in Lisbon than in Brazil …
I have been living here for nine years. In 2005 I still divided my time between Lisbon and Brazil and in October, when I returned to Portugal, I realized that I had moved here by choice. Until then I hadn't thought about it, I was coming here to do my job with RinR, not knowing for how long I would stay. I ended up making the event "The Largest Christmas Tree", then another RinR, and later another "tree"… by this time it had become clear my identification with this place, feeling good about living in Lisbon, the well-being, the relationships built here, many of them solid and happy. I was living fine so I settled here. 
Has it not happened to you like with some Brazilians who, upon returning to Brazil after a long stay here, are said to have a European Portuguese accent?
Definitely. Even in the form of writing. When I got here I realized that a letter or e-mail ended with "our best wishes" (os nossos melhores cumprimentos):  I found this to be out of this world. Now, when I write to Brazil, I don't know how to end a letter. The way that is used there, "sincerely," is horrible, I strongly dislike it. In order not to leave anyone baffled, I created another way. These are situations in which you move towards a… 
Gray zone?
Exactly. The strangeness, the feeling of being nowhere and everywhere, all at the same time. Last year, I was in Brazil because of RinR there. Then it all came back. And not so much because of the different accent. There are expressions and words that you use differently, the rhythm, the intonation, these are things that take people by surprise. I know a producer there with that typical "Carioca" accent. When I went to talk to her, I thought she was joking around. I then realized: My God! Do we talk like that? There, I'm Portuguese and here… well, I'm from Rio!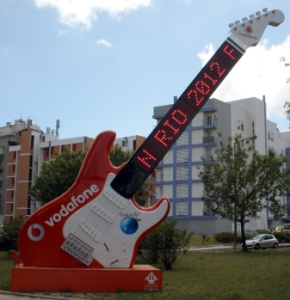 Is it very different to promote a Rock in Rio event in Lisbon or elsewhere, such as Madrid?
It sure is. Everything is different. When we arrive at some place to do the RinR and begin to talk, there is always someone who says, "but this here is not Brazil." It happened with the first international event, in Lisbon, and it continues to happen wherever we land. You arrive armed with all your international experience, confident, only to hear someone saying that things in that place don't work like that. It is always a super-intense process. In Poland, you arrive and your hear, "this is not Brazil or Portugal!"; then getting  to Madrid: "this is not Brazil, or Portugal, neither Poland." There is always a different process, which is purely local, cultural and behavioral. Then there is the public. The Portuguese public is very polite, very gentle. It is very easy to work in Lisbon. The event goes incident free with all the madness that it has. Here things work smoothly, without issues. 
What do you really like in Lisbon?
Lisbon, like the rest of Portugal and Europe, has this matured civilization that Brazil doesn't have. It produces a healthy balance between the time you devote to your professional activity and that which is devoted to your personal life. Coming from a reality where you have to drive with your doors locked, and fearful when a barefoot child approaches you, this has a devastating effect on a human standpoint and only works if you're cold hearted or insensitive. In Brazil, people live on a 24-hour-alert-mode. Here, a person does not have to be afraid to be out on the streets. This quality of life is absolutely unbeatable. 
It is admirable the way you live in society. And Lisbon has it all: with a rich cultural offer, (greater than that offered in Rio de Janeiro), plenty of nightlife, restaurants, night clubs, and bars. The difference is that in Rio you're on the beach, while here you go to the beach. In a society with so much inequality like in Brazil, that's a good thing, it is democratic because on the beach, wearing a bathing suit or a bikini, everyone is equal. 
Don't you miss the sun of Rio during these long Lisbon winters?
Not really. When I came here to stay, it was in January, thus coming from the Brazilian summer and the change was complicated. The solution was to put on a ton of clothing, looking like Bibendum, the Michelin man. I came to realize that I was wearing the wrong type of clothes. I then adapted. The changing of the seasons brings a process rich in sensations. 
What has changed in the way Brazilians see Lisbon?
Still not as much as I'd like, but it is changing. The fact that Lisbon has a RinR made Brazilians curious. It was a provocative thing to bring something young and modern to Lisbon, which keeps Brazilians asking: "What is the RinR event doing there?" Then there was the Brazilian soccer coach Luiz Felipe Scolari (aka Felipão) who led Portugal brilliantly to the UEFA Euro cup finals. When Brazil was eliminated in the 2006 FIFA World cup, Brazilians started to rally around the Portuguese football team . You could see Portuguese flags all over the place, this was the most successful campaign ever seen. Since then, everything has been changing: we have an agreement with the Municipality of Lisbon for the city to be featured in a soap opera. It was the first action of international merchandising done by TV Globo. That stuck a sympathetic  chord for Brazilians. It was supposed to be five minutes of scenes from Lisbon in the novel and it ended up with 36 minutes. Until then, the character who would have said that he was going to a business meeting in New York now says that he was heading to a business meeting in Lisbon. In Brazil the main communication media are the novels which dictate opinion, fashion and trends, besides influencing and determining behavior. If the main character wanders around with a hat and cowboy boots in a hot blazing summer, everyone will do the same. 
I remember the presentation of this campaign and also some skepticism on the part of Brazilians: "Lisbon, an ancient city and destiny of characters in the novels?".  Apparently, it did work.
It all depends on how you package it. Portuguese like to present Lisbon through its history and through Fado. Surely this is important since it belongs to the city's identity, but you cannot leave behind other things. People today also want to have fun, go out to eat, have a walk, and Portugal has all of this: you drive across the country in a few hours and you have a whole lot of things to see. For some time we didn't show the modern Lisbon. It's not enough just going after churches and historic events; we must show how people have fun. In this novel, the characters were young and trendy and went on evening outings. 
Before, Brazilian tourists would arrive completely unknowing. Today they already know beforehand many things about Lisbon.
We must acknowledge the merit of the teams that have been promoting a modern Lisbon. Also, the culture of Brazilian tourists has risen. They are not traveling anymore just for the sake of traveling and clinging on to old stereotypes about the Portuguese.
The greatest writer of Brazilian soap operas, Aguinaldo Silva – a lover of Lisbon, lives here half of the time – he wrote a novel whose main character (the actress Lidia Cabral) is a Portuguese who left at an early age to Brazil and interacts with another character ( the portuguese actor, Paulo Rocha), who owns a bakery, the typical "portuga" with a European Portuguese accent, humorous, very handsome, blue-eyed, young, healthy looking and everything that was assumed that the Portuguese are not. This novel, which is now passing in Brazil, is a public service to the image of Portugal. The characters make a toast with Portuguese champagne. Awesome. 
Best place for a late afternoon in Lisbon?
Hmm, so many good things … Perhaps the terrace of the Hotel Bairro Alto. 
Best place to spend a night out?
A nice dinner in a restaurant already makes my night. But there is that spectacular place, the Restaurant Guilty. But there are so many more places that I loved … 
For someone who has only a few available hours in Lisbon before hopping on a plane to another destination, what would you advise not to miss?
I would suggest a tour that goes along the Avenida da Liberdade, the Baixa downtown and Belém, which has a garden that is the most beautiful of all and has that truly stunning Monastery which is the Mosteiro dos Jerónimos.
 Article written by Luís Miguel Carneiro with images from Agência Zero and DMC-archives, which was originally featured in the "Revista Lisboa", a magazine published by the Municipality of Lisbon, first edition / April 2012 (pages 27-30) and translated under permission by BestInPortugal. 
Tagged as: Attractions, life in portugal, Lisbon, Portugal Events, Portugal Festivals, Roberta Medina, Rock in Rio