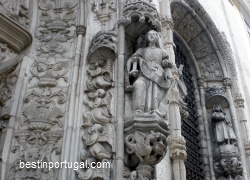 It doesn't matter how many times you have been there before, or how many times you have listened to the tales of manueline architecture from your friends and colleagues. There is hardly anything that can prepare you for this awe inspiring man made wonder called Manueline Style Architecture. Also it forces you to think about the capabilities of a man. Yes, this medieval architecture is beautiful, but it's not a secret anymore that whole of the Lisbon is beautiful. So what sets Manueline Style Architecture or late gothic architecture buildings apart from the rest? For the interested ones, it's worth to mention here that the entire Manueline Style Architecture in Lisbon reflects the trade and culture of Portugal.
The major elements of Manueline Style Architecture are related to the sea, because the sea trade used to be one of the most important sources of income for Portugal in the 16th century. Sea related maritime elements in the Portuguese late gothic Style Architecture are a common site; you will find moldings resembled with corals and most of the carvings are covered with sea weeds and algae in carved forms. The elements you find in ships such as anchors, stone ropes and cables and instruments that are used for navigation among others, and they are used in such rich harmony that merely looking at them can leave you spellbound. The best example where manueline architecture was used is Mosteiro dos Jerónimos (Jeronimos Monastery) or Hieronymites Monastery in Lisbon. The manueline architecture flourished during the prosperous reign of King Dom Manuel I, after gothic architecture cathedrals. It remains very popular until High Renaissance and Mannerist type of architecture came into existence. Some of the must visit places that should be on your list, if you really want to witness this architectural wonder are:
Grand Monastery of Jerónimos in Belém: Situated just adjacent to the Tejo River in the Belém district, this monastery is one of the few manueline monuments left today where the Manueline Style Architecture is still present in a timelessness manner. Jeronimos Monastery or Mosteiro dos Jerónimos, was built in the early 15th century; this architectural marvel still retains most of its magnificent qualities. The church contains the tombs of various kings of chapel along with the tomb of great discoverer Vasco de Gama. This monastery, built in Portuguese late gothic style architecture called manueline architecture, was classified as a world heritage monument by UNESCO.
Convento da Madre de Deus: Another destination to witness this innovative style of architecture in Lisbon. Convento da Madre de Deus is a tile museum in Lisbon known as Museu dos Azulejos. On display is the breathtaking collection of around 7000 tiles along with other ceramic work.
Igreja de Nossa Senhora da Conceição Velha: The church is a great example of human will and power. This church, which is located in central Lisbon, got destroyed in the earth quake of 1755. When most of buildings got destroyed in that earth quake, the remaining elements of many churches were used in the reconstructions of the Old Church of Our Lady of the Conception (Igreja de Nossa Senhora da Conceição Velha).  This church has been a national monument since 1910. 
Igreja de Santa Maria Madalena: The entrance portal of this church is a great example of the manueline style. The church was built around 1150, and it has undergone many changes and reconstructions. Cases in point are; a fire destroyed it in 1363, again got destroyed in cyclone in 1600, and it had to face the great earth quake of 1755. Regardless of these destructions and subsequent reconstructions, the church still holds the very essence of manueline architecture, as is classified as a national monument. 
Torre de Belém: This place is a must visit for you, if you are planning to visit Portugal for all its architectural beauty especially the Manueline Style Architecture. The architecture of this monument mostly reflects the period when Portugal used to be a global power. The architectural elements such as coats of arms, order of the Christ crosses are more than enough to confirm this. Torre de Belém is located on the banks of the Tejo River and when the tides are low, you can see some sand and pebbles around the Torre de Belém.
As we have just seen, there is no dearth of places where you can witness the real beauty of Manueline Style Architecture in Lisbon, all you need is a little bit of research before making this breathtaking excursion.
Tagged as: Attractions, Cultural Heritage, Lisbon, Tourism in Portugal