The Portuguese are the first documented explorers to set foot on South African soil, courtesy of Bartholomeu Dias, and today around 1 million Portuguese immigrants and descendants call South Africa home. Through the centuries, numerous customs, festivals, and styles from Portugal have merged with our rainbow nation, and have become firm local favorites.   
Food
One of the most popular fast-food eateries in South Africa is a Portuguese conception, and is the ever enjoyable Nando's, which was created in 1987. The franchise actually blended our two cultures expertly, with traditional Portuguese chicken recipes incorporating local spices.  
Prego rolls and piripiri are two of the most notable items consumed en-mass by the South African population, and we give a big nod of thanks to the Portuguese for introducing these now-cultural staples. 
For authentic Portuguese dishes try:
Diaz Tavern, Cape Town
A mural depicting the owner's Madeiran heritage is displayed on one of the walls at Diaz Tavern, and traditional blue tiles decorate the wall above the bar. The food is a fusion of local flavours with traditional Portuguese dishes and Bacalhau, Trinchado, and even Crème Caramel are available. Located within Cape Town CBD, near the Castle of Good Hope.
Neo Café, Durban
Set within Summer Square is a delightful eatery, owned by Mozambique-Portuguese descendent, Ricardo Flores-Coelho. With plenty of 'colonial Portuguese' food and traditional dishes, you'll fall in love with the variety of flavours – and everything from feijoada to lulas calamari tubes are on offer.
The Flamingo at Troyeville Hotel, Johannesburg
The trendy Troyeville Hotel is home to the popular Flamingo eatery. With plenty of Portuguese seafood dishes, expect calamari and clams to abound, and definitely try their prawn curry with coconut milk! The caldo verde soup is worthwhile, as is the decadent Molotov dessert.
Festivals:
Portugal Day / Dia de Portugal – June
Those with Portuguese heritage will already know that the 10th of June is Portuguese National Day, an uplifting and commemorative event celebrating Portuguese culture and the poet Luís de Camões. All over South Africa, those with Portuguese heritage gather together for feasts, to listen to traditional music, and to read the most famous poem written by de Camões entitled "Os Lusíadas". Celebrations are generally held at Portuguese consulates in each South African province. 
Umtamvuna Portuguese Festival – July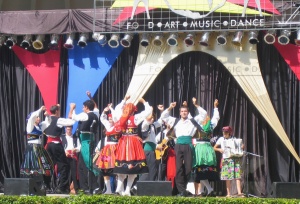 This annual festival's date changes from year to year, but it always takes place during the famed Sardine Run in Durban. The festival take place on the beach of Port Edward , near the Portuguese monument at Splash Rock, erected for the lives lost in the São João shipwreck . Festivities include authentic cuisines and wines, a childrens play area, treasure hunts, flea markets, traditional dancers, and even talks about the many shipwrecks that have happened. 
Blessing of the Fishing Fleet Festival – October
An annual tradition that only started in Cape Town in 1989 has a long history in Portugal, whereby a fishing fleet is blessed by a priest, and prayers for a bountiful fishing season are made. A statue of the Virgin Mary is carried onto the Fishing Boat of Honour, and tours the harbour, followed by a boat carrying the newly appointed youth depicting the King and Queen of the Sea. This popular Cape Town event follows the above process at the V&A Waterfront, and it also doubles as a fundraiser, with the money raised given to the Portuguese Cultural and Welfare Centre in Cape Town.  The date takes place in October, but the actual date varies from year to year. Live music, authentic cuisines, and folk dancing are always on the schedule.
Author Bio: Roseanna McBain is a writer for TravelGround.com, and has a love of cultures around the world, and the mythology and legends attached to them. She enjoys strong coffee, science fiction, and attempting to recreate cuisines from around the world – often with humorous results.
Photo Credits
Nando's by lj16 (Flickr)
Traditional Portuguese Dress By OpenSkyMedia (Flickr)
Blessing of the sea painting (Creative Commons)
Tagged as: Attractions, Festivities Portugal, Portugal Events, Portuguese Festivals, Portuguese Traditions