Portugal is such a beautiful place to visit, and often times people will ask what towns are the best to visit while in Portugal. Therefore, this summary  will give you the "must see" places to visit in Portugal that you should defiantly find some time to explore while you are visiting. Lisbon is not mentioned in this listing since Portugal's capital must necessarily be included in your trip. Moreover, in order to restrict the selection only to 10 cities, other cities which also have their charm like Cascais , Marvão , Castelo de Vide, Lagos and many others, had to be left out. The towns and places to visit are as listed:
Temple of Diana, located in the center of historic Évora is one of the most significant landmarks relating to the Roman civilization in Portugal
Évora: A well-preserved ancient Roman temple rises across the street from convents and monasteries that flourished when the kings of Portugal used this town as their capital in the 12th century. As of 2006, Évora has 41,269 inhabitants. The town has a large number of monuments from various historical periods, including some that date back to Romans. Located in the Alentejo, a large region of wide plains in Southern-Central Portugal, this city is a UNESCO World Heritage site.
Sintra: The town of Sintra is a major tourist attraction. At least five major palaces and convents are tucked amid the lush vegetation, which is also a UNESCO World Heritage site. Sintra is located at the foot of the Sintra Mountains, 30 kms (19 miles) from Lisbon.
The fortified town of Óbidos, a well-preserved example of medieval architecture
Óbidos:  Located in the Oeste Subregion, this fortified city is located on a hilltop, divided between the two parishes of São Pedro and Santa Maria. Every month of July, the Obidos castle will hosts its traditional Medieval Market, recreating the spirit of Europe in Medieval times during two weeks. Óbidos is a well-preserved example of medieval architecture.
Nazaré: With a population of 15,158 inhabitants, this seaside village is located in the sub region of Oeste and Leiria district.  This town consists of three sections: Praia, alongside the beach, Sitio, an old village on top of a cliff, and Pedeneira, which is another old village on a hilltop.
Nazaré has an underwater canyon with a maximum depth of at least 5,000 metres (16,000 ft) which makes it a perfect surfing spot for high waves. This is the place where Hawaiian surfer Garrett McNamara surfed a record-breaking giant wave: 78 feet (23.8 m) from trough to crest, in November 2011.
Sanctuary of Our Lady of Fátima, in Fatima
Fátima: Today Fátima is the most-visited pilgrimage site in the Iberian Peninsula, home to dozens of imposing churches and monuments. Fátima has a population of 7,756, and is located in Ourém Municipality, 130 km (80 mi.) North of Lisbon. This city is famous for the Marian apparitions in 1917, where the Blessed Virgin Mary appeared to three shepherd children on the 13th day of six consecutive months in 1917. The Marian Shrine of Our Lady of Fatima attracts a large number of Catholics each year, with pilgrims reaching almost the million-mark on May 13 and October 13, the significant dates of Fátima apparitions.
Tomar: This historic town, with a population of 40,674 inhabitants, was a Templar stronghold back in the 12th century.  The Portuguese branch of the order was later turned into the Knights of the Order of Christ, thus giving support to Portugal's maritime discoveries of the 15th century.  Tomar has a lot of monuments that attract many tourists each year, with the Convent of Christ topping the list of most historical and artistic monuments, being listed in the UNESCO World Heritage sites. The town of Tomar also has a myth that there is a secret passageway between the Santa Maria dos Olivais church and the castle. Rumors have flown around for years that there is a theatre called Paraíso, and it is haunted with an old man living in its attic.
A panoramic view of Coimbra and the Mondego River
Coimbra: The country's academic center, this town boasts a university with roots in the middle Ages, a rich historic core, and a tradition of troubadour-style singing that's one of the most vital in the Iberian peninsula. This city, with around 101.000 people, did once serve as the nation's capital in the Higher Middle Ages. The University of Coimbra is the oldest academic institute in Europe.
Porto: The city of Porto (Oporto, in English), one of the oldest centers in Europe, has rich associations with the port-wine trade, with one of its internationally famous exports, Vinho do Porto (Port Wine), named after the city.  This city, with a population of around 1.7 million people, is the second largest city in Portugal, after Lisbon.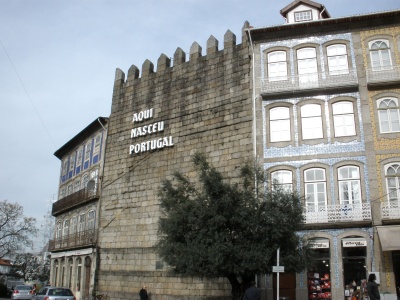 Guimarães: The birthplace of the country's first king, Dom Afonso Henriques, and the core from which the country expanded, Guimarães is the cradle of Portugal. Located in the Braga district, with a population of 52,181 inhabitants, its historical center is a UNESCO World Heritage Site, and one of the largest tourist centers in the region.
Viana do Castelo: This town with a population of 91,200 inhabitants, was founded in 1253 under the name of Viana. It was in the 16th century that its port gained considerable importance as one of the prime ports from which Portuguese explorers set sail, in the. Also known as the capital of folklore, Viana do Castelo is located at the mouth of the Lima River.
Most of major European airlines fly to Portugal. Therefore, getting low airfare deals is very straightforward, provided you book your tickets in advance.
Tagged as: Attractions, Tourism in Portugal