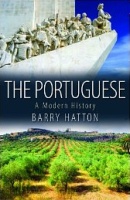 Barry Hatton, a Lisbon-based foreign correspondent which has lived in Portugal for more than two decades, shares his thoughts and his research in his book "The Portuguese: A Modern History".
The book portrays a lively and accurate account of a nation which experienced disaster, dictatorship, revolution and economic woes and that once was a world power but today is more often than not left on the sidelines of world news.
One of the reasons that motivated Barry Hatton to write this book  is that some negative stereotypes held against the Portuguese are far from the truth. He describes a society of a modern country and some of their attributes which made them able to survive along these 800 years of history, like for example, the genuine spirit of "desenrascanço" or how to disentangle yourself out of a bad situation. He also describes other cultural aspects like the food, music and the very Portuguese peculiarity of disorderliness.
Portuguese Galleon exposed in the Museu da Marinha in Lisbon, Portugal
Barry Hatton sees the future with hope and faith in the Portuguese people, even though knowing that few of them agree with him.
Check an interview done with him by the Signal Books blog, publisher of the book, in link to the interview .
Tagged as: Book Review, Cultural Heritage, life in portugal