Accordion History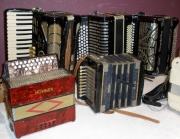 The accordion was patented in Paris in 1829 by Cyril Damian, a Viennese of Armenian descent. However, it was in the Italian cities of Stradella in the Lombardy region and in the province of Ancona on the Adriatic coast that small accordion shops developed into important manufacturers, like Paolo Soprani (founded in 1864) and Scandalli (founded in 1900).
During the first years of the twentieth century, the accordion starts to gain importance throughout the world. In France, Russia , in the Austro-Hungarian Empire and in the Americas it was already known among the middle classes, but the middle-lower classes also started to enjoy it thanks to the Italian emigrants, which helped to spread its popularity.
In reality, the latter have been the real propagators of the accordion; the emigrants brought their accordions with them, to help them feel closer to home and to their families while playing the music.
The accordion is thought to have arrived in Portugal about the same time as it arrived in Spain in the early twentieth century, overtaking the (until then) predominance of the harmonica.
Of the four types of accordions (Diatonic, Concertinas, Chromatic and Piano accordion) , the diatonic (with button board) was popular in the Estremadura Region, ranking on a par with the bagpipe.
The chromatic accordion was predominant in the Ribatejo region, especially in the 1930s, where most bands had an accordion player. The 1950s and 60s produced several stars.
Sponsored by: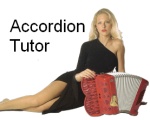 Second Accordion Festival in Cartaxo
This short history of the accordion served as an introduction to an accordion festival that I attended in Cartaxo, a city located 70 kms (44 mi.) North of Lisbon.
The 2nd Accordion Festival of Cartaxo took place on October 2nd , 2010 and was organized by the Algarvios do Cartaxo,a local event promoter, with the support of the Cartaxo Philharmonic Society and local companies which generously contributed to the success of the event.
The roster of attendees included two of the most famous accordion players in Portugal, Mrs.Eugénia Lima (she was supposed to attend, but wasn't able to due to health problems) and Tino Costa along with others, that I had the opportunity to listen like the Accordion School of Cartaxo, The young accordionists of Santiago (in the Alentejo Region), Mário Paulo and João Costa, Sofia Henriques, Andréia Sofia, Nelson Marco and Leonel Rodrigues and Maria Adélia Botelho.
Unfortunately, I wasen't able to stay for the night's main attraction, 2009 world champion, the Italian Pietro Adragna. In fact, the only regret that I had about the Festival was its duration: on one hand we were indulged with a variety of performers to listen to but on the other hand I stayed there over three hours, and  wasn't able to hear the main attraction of the night.
Check the video that I made, summarizing the various admirable performances of the night.
Music of intro video by Kevin MacLeod from incompetech.com
Music in the end: "La valse d'Amélie" (Yann Tiersen)
Tagged as: accordion festival, accordion history, cartaxo