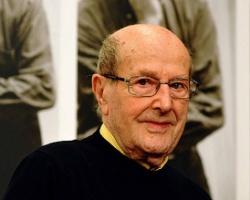 Manoel de Oliveira is a portuguese film director born in Cedofeita, Porto. At 102 years of age, the word retirement doesn't make part of his vocabulary since he is currently the oldest active film director in the world. He has been engaged in directing films since 1931. Besides directing, Mr. Oliveira has put on many hats throughout his career, including actor, editor, screenwriter, camera man, sound technician and producer.
The date in which Manoel de Oliveira was born, 11 December 1908 must have been very auspicious since the two-time Pulitzer Prize-winning American composer Elliott Carter was born on the very same day.
Raised in a wealthy middle class family,  Oliveira attended school in Galicia, Spain and desired at first to become an actor, but later changed his mind with the arrival of movies, and moved to behind the cameras. He made his debut as a director in 1931, with the silent documentary "Douro, Faina Fluvial" (Douro River Wildlife) that depicts riverside activity on the Douro banks.
He has also singularized by acting in Portugal's second sound film, A Canção de Lisboa (The Song of Lisbon) in 1933.
Manoel de Oliveira's first feature film came nine years later with a portrait of the street children from Porto, named Aniki-Bóbó. The film was a commercial failure (merit of which only came to be recognized over the time) thus forcing him to discontinue other projects that he was involved in, and dedicating his time to run the family's vineyard. He only reappeared in the filming scene in 1956 with O Pintor e a Cidade (The Painter and the City) , a documentary of Porto which contrasted photographic shots of the city with the paintings of artist Antonio Cruz. 
The year of 1963 represented the beginning of Oliveira's worldwide approval, with the admirable "Acto da Primavera" (The Rite of Spring), a documentary of a staging of a Passion Play  set in a rural community that Oliveira framed in a political context. That film was shortly followed by A Caça (The Hunt). Both films received good reviews from the critics and from the public. 
Despite these successes, Manoel de Oliveira only returned to the director's seat in the 1970's. He increased his production in the 1990's (hence in his 80s when most people have bowed out of a productive life and many, of life itself), making one film per year on average, some more successful than others. His 1993 film, Vale Abraão (The Valley of Abraham) was an artfully conceived homage to Gustave Flaubert's "Madame Bovary" while his 1995 film O Convento ("The Convent) marked his first time using an International cast of big name actors like John Malkovich and Catherine Deneuve. 
Oliveira's latest film, O Estranho Caso de Angélica ("The strange case of Angélica") which is a 2010 co-production involving four countries (Portugal, Brazil, France and Spain), and premiered at the Cannes Film Festival in May 2010, will now feature in the First Beijing International Film Festival – BIFF in April of 2011. 
This drama tells the story of Isaac, a young Jewish photographer who one night receives an urgent call from a wealthy family to take the last picture the family's daughter, Angelica, who died a few days after her wedding. Isaac gets his first sight of Angelica and is overwhelmed by her beauty. As soon as he looks at her through the lens of his camera, the young woman appears to come back to life just for him. Isaac instantly falls in love with her. From that moment on, Angelica will haunt him night and day, until exhaustion. The Strange Case of Angelica is Oliveira's brainchild that was intended to be carried out after the Second World War, taking into account the aftermath of Nazism, but was prevented from being produced at the time, due to the intervention of Salazar's Regime. 
Manoel de Oliveira is always planning new film projects, but as he once said, "you never know what fate will bring." 
His extensive filmography is listed here  
I've also introduced a tribute to Manoel de Oliveira, which includes a small part of his works, created by Kornspel.
The list of films featured in this video (original title in Italics followed by the translation to English) is indicated below:
Singularidades de uma Rapariga Loura (2009) – Eccentricities of a Blonde-haired Girl
Belle Toujours (2006) – Belle Toujours
Espelho Mágico (2005) – Magic Mirror
Um Filme Falado (2003) – A Talking Picture
Je Rentre à la Maison (2001) – I'm Going Home
Palavra e Utopia (2000) – Word and Utopia
La Lettre (1999) – The Letter
Viagem ao Princípio do Mundo (1997) – Voyage to the Beginning of the World
Vale Abraão (1993) – Abraham's Valley
Non, ou A Vã Glória de Mandar (1990) – No, or the Vain Glory of Command
Os Canibais (1988) – The Cannibals
Mon Cas (1987) – My Case
DVDs and Books on Manoel de Oliveira (through Amazon.com **):
**Disclaimer: I receive a small commission from the sale of these DVDs & books, but the price is exactly the same as if you went to purchase it directly in the Amazon site.
Image Credits: piwiyan on Flickr.com – C.C. license
Tagged as: Manoel de Oliveira, Movie Directors, Portugal Films, portuguese famous