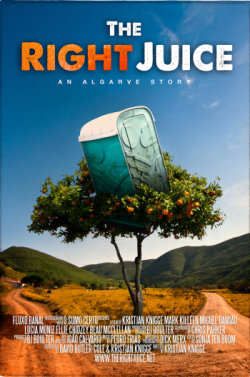 Exclusive interview for BestinPortugal with Kristjan Knigge, Director and Cinematographer who is directing the full-length feature film "The Right Juice", an independent, original production set in the Algarve interior and shot on location, that wants to show the day-to-day life in this southernmost region of mainland Portugal. 
The film, an English spoken dramatic comedy and intended for international theatrical release, tells the story of a young English banker that leaves everything behind to start an orange plantation and ends up striking oil. The film features national & international stars including Mark Killeen, Miguel Damião, Lúcia Moniz, Ellie Chidzey and Beau MacClellan in the leading roles. 
Could you give a brief bio about yourself?
I grew up in the Algarve. After dropping out of University in my first year, I moved to Amsterdam, where I have been living for the past twenty years. I started out in the film business as a runner. Over the next decade I worked in many different roles on film sets: as Production Assistant, Lighting Assistant, in the camera and grip department, Special Effects and lastly as an Assistant Director and Production Manager. Some 8 years ago I decided to take the plunge and become a director. My first film was a documentary called Doubting Thomas, which explored the most important ritual in the life of the Masaai in Tanzania. Since then I have been making commercials, corporates and many short fiction films. The Right Juice is my first feature.
What made you decide to choose the Algarve for the settings of this enterprising project?
Having grown up here, the Algarve holds a very special place in my heart. But it's not just the personal connection. The Algarve is a wonderful place to film. The light here is gorgeous, and then there are the many, many beautiful locations. But mainly, it's the people. People here are supportive, open and very willing to help and get involved in a project. So it was a bit of a no brainer that I wanted to come to the Algarve for my first movie. 
How were the main characters of the film developed? Was some of it inspired on the locals?
Yes. The writer, David Butler-Cole, lives in the Algarve and drew much of his inspiration from locals. When we developed the script and the characters further, more and more quirks and traits from people we know and met got incorporated. 
What were the challenges faced in directing the film?
Wow, big question! Full length features are huge and complex projects. In our case the biggest challenge was getting it all done with very little money. We got no subsidy or arts funding for the project, so all the money came from ourselves, donors and sponsors. Many people invested time and effort, and without them we could not have got all the filming done. 
Before shooting I was nervous about working with these very talented actors for such a long time. I wasn't sure if I was up to it as a director, but I got lucky. The cast was fantastic and very supporting. Mark Killeen, who plays the lead role, really helped me find my confidence. Basically it was just so much fun to work with Mark, Miguel, Lúcia, Beau, Ellie and all the other cast members, that I just didn't get the chance to be nervous or doubt myself (too much). 
Our other big challenge was the weather. Our story takes place in the summer, when it's supposed to be hot and dry. Shooting during the summer months would have been impossible in the Algarve. Many of the people involved in the project where volunteers who would not have been able to take time off during the high season. Also our hotel sponsors would not have been able to provide rooms, and three of our major locations, ZooMarine, Quinta da Lua and Vila Vita Parc, are very busy in the summer months. All this meant that we had to shoot before the season started, so we started in early April. Of course April was particularly wet and cloudy this year, so it was a challenge shooting sunny spells in between rain and cloud, but we managed! 
What are the advantages in choosing the Algarve as the film setting?
Locations and people. There is so much beauty to be found, both natural and man-made. Also the Algarve is not that big, so it is logistically doable to shoot in various locations, getting a range of settings to tell the story. Also the hospitality and generosity of the people makes it really special. So many people helped us, letting us shoot on their properties, being extra's and actors in the film, lending us equipment, props, wardrobe and such. 
Is this film also an alert to all the wild speculation that has changed the wonderful scenery in some parts of the Algarve, acting as an eye opener in order to protect the still many unspoiled places that attract tourists so much?
First and foremost this film is entertainment. But yes, I hope that the film shows a wide audience some of the beauty of the Algarve. 
In what stage of development is the film at now?
We finished principal photography in the second week of May and are currently editing the film. This will take quite some months yet. The editing of a feature film always takes a long time, sometimes up to nine months or a year. We hope we won't need that long, but we are hampered by a lack of funds. Both myself and my editor, Sonja ten Boom, are committed to the film, but we are not able to take the months off that are necessary to finish the film quickly. This means working on the film in between other jobs. 
After the editing, compositing, sound design, music and colour correction we will have a finished product. Then the next stage will begin. Selling the film, getting distribution, getting the film into cinema's. We are already working on that, of course, making contacts and speaking to various interested parties, but only when we have a finished film will actual deals get made. 
We know that funding is essential for the making and success of the film. How can people support and help sponsor this independent production?
We astir need funds to get the film finished. Our crowd funding platform is sill open on our website . We are also looking for some more substantial investors. Anyone interested in partnering with us, look on the website or contact us directly! 
Any points of improvement that you would include in your wish list, should you make another film in the Algarve?
One of the biggest barriers to shooting in Portugal for foreign producers is the lack of any type of tax incentives. Almost every country in Europe has some form of tax benefits for film production, but Portugal, nada. Having a favorable tax climate would definitely make it easier to attract foreign productions and foreign investors. 
Any final thoughts that you would like to add?
Just that I really enjoyed filming in the Algarve, and I hope the film is a success so that I can go back and film there again!
BestinPortugal wants to thank the Director of the film, Kristjan Knigge for this interview and hope that this project may be a launching pad to show the Algarve in movie theatres around the world. 
You can obtain more information about the Right Juice in their site , their Youtube channel  and in their Facebook page . 
Photos by Dick Merx
Tagged as: Algarve, Culture in Portugal, Portugal Films