Much more than climbing mountains, to be a mountaineer is a way of life, a passion, an ambition. It is based on the belief that you can always reach further, be better still and to push further your own limits.  Portugal has its greatest example with the mountaineer João Garcia.  João Garcia gained public recognition in 1999 as the first Portuguese to climb the Mount Everest, the tallest mountain of the world (elevation 8,850 meters or 29,035 feet) , without the use of oxygen. This feat, besides having taken away his climbing companion, left indelible marks on his body , but never shook his conviction and stamina of mountaineer.
This year he obtained an achievement for which he had worked for 17 years: to conquer a place in the selected group of 10 people who climbed the 14 highest peaks of the world without the help of oxygen canisters. We will now see how João Garcia lived this moment and know more about his plans for the future.

It is said that in terms of equipment all the details count to improve the lightness with which to walk on the terrain like in cutting the handle of the toothbrush to lose 10 grams… How do you prepare yourself for an expedition?
Preparing for an expedition implies in paper works and logistics. One has to apply for the licenses and carefully choose the companies and providers. Then, each mountain has its singularities and demands appropriate physical preparation. With the experience gained throughout the years, you get to be more detailed and prepared. Sometimes, a minimal detail can make all the difference in the end result. Cutting the handle  of a toothbrush to lose 10 grams may seem ludicrous, but in the final result, everything counts.
Besides the task of obtaining the necessary documentation, there is also the activity of doing publicity in support of your sponsors, in this case the Millennium BCP Bank. This implies a panoply of equipment to attend this prerequisite. I reached a point where half of what I take with me are batteries, camera, laptop, satellite connections, cables and other equipment to enable to transmit my progress live. Access to the Internet in remote places is very challenging.
The highlight of an expedition is in reaching the peak. Is this the final objective?
It is certainly the hardest, but to reach the peak is only half of the marathon. At this moment I'm  only halfway and I have to concentrate for the second leg of the journey, which is the descent. Later, when I reach the base camp , I have to prepare and edit the photos for each media channel and upload them to be able document the experience in a timely manner.
Doesn't  this obligation of documenting the experience make you lose part of the thrill?
When you are climbing mountains as a professional, you have added responsibilities. I am attracted to the quantity of work and diversity of tasks involved in this process. It motivates me to be the commander in charge of what I'm doing, to be a good resource manager and to make sure that we have everything  necessary at all levels. To control food type and intake, to control the glycogen levels in the legs(low levels cause fatigue) to have energy, to motivate the team, etc…
What are the essential qualities to be a good mountaineer?
Basically it is to enjoy what we do. Not everything is a stroll in the park. Like a surfer, I am not always in the crest of the wave and available for all requests. But it is the passion that leads me to overcome everything and to arrange satisfying conditions to be able to respond accordingly. Honesty is also important. Having the knowledge to do things correctly, like for example to climb with no oxygen supply demands great preparation. Doing  your homework  is essential, which enables you to leave with a sense of accomplishment. Another thing is to be humble enough to perceive that you are privileged. When we reach the peak, we must be aware that this is a result of a teamwork: of the meteorologists who send to us the information duly updated, of the sponsors, of the persons whom we contact at local level to help us. But essentially they are summarized in three core values:
to like what you do,
to be honest,
and work hard to get it.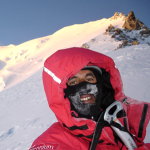 You assume as ethical to climb without the use of oxygen. Can you explain the importance, since you take added risks vis-à-vis those who do it with oxygen?
To climb mountains is not only made for conquering  trophies. There is a philosophical basis as in many other sports. In the end it is like a combat, citing Friedrich von Logan: "to combat oneself is the most difficult of wars, to defeat oneself is the most beautiful of victories".
 This is the beauty of it. Only 10 people managed to climb 14 mountains over 8 thousand meters in height without the aid of oxygen, this is a fact that impresses the general public and the sponsors. But I climb mountains because I want to, not only to cause an impression. It makes sense for me. To make a comparison, it would be like Rosa Mota running only half of a marathon and doing the other half by scooter. It would be considered trickery. Doing it the right way is certainly important. I can also present my case in another way: we live in a democracy in which it is established that the majority is right. 97 % of the escalades to the Everest were done by means of oxygen, and only 3 per cent were not. Just because the majority does it this way does not mean that it is correct. I am true to my principles.
In your journey as a mountaineer what was your worst moment?
My worst moment was undoubtedly the great accident on the Everest in 1999. I reached the peak but I didn't complete it successfully. An escalade can only be considered successful when all of us return safely, which wasn't the case. I came back with sequels and my climbing companion never returned.
And your best moment as a mountaineer?
It was the last escalation to the Annapurna, because it represented the completion of a project of 17 years of my life. In addition, I finished with any incidents in only five days. Normally, these are mountains that take between five to six weeks to conquer. But I opted for a different strategy in acclimatizing in another mountain. When I arrived there with my expedition companions, the weather was good. I believed that I had to take advantage of the good weather conditions and had faith that it was possible, because there was a window of opportunity. I went up alone and managed to reach the camp of the Spanish expedition, which had left earlier, in only one day.
How do you feel about your progression as a mountaineer? Have you already reached the peak of performance?
Being 43 years old, I am already in a mature age, not to say old, for this sport. In my twenties & thirties, when I climbed the Everest, I was in a rising curve of performance, now I am in a descending curve. At 30 years when I reached the Everest , it was with relative ease that I attained those 8.850 meters. Now, I have accumulated over the time more injuries and sore spots from the trainings. But I have the experience that compensates for the age. I appreciate doing the drills, I do triathlon, I have objectives. All this keeps me motivated to continue my training and never stopping. And yes, I have reached the Everest of my life. I still want and have the capacity to grow and to do more and better as a person.
How do you define and classify mountaineering regarding other sports?
Mountaineering is an adventure sport. Other sports have security factors included. A football player knows that outside of the four lines, assistance is assured. In mountaineering, after a certain altitude there is nobody to give you assistance so you have to rely solely on yourself. Society creates a comfort and security zone that is each time more recognized and valued. Adventure sports include risk of life and makes us expand our boundaries out of this comfort zone. You can only undergo these risks by climbing the highest peaks, adventuring in the greatest oceans or reaching for the polar regions. Today, the theme adventure is very much explored and marketed. For example, rappel is announced as an adventure sport, but in reality it isn't because security is controlled. There must be a psychological barrier to overcome and mountaineering provides that. It is not from one day to the next that we get prepared for this type of adventure sport activity.
What do you feel when you reach the peak? Is it different from one mountain to another?
It always ends up being different from mountain to mountain. There are mountains that have a reputation of being difficult. But there are others that don't have this reputation and therefore caused a greater impression on me. The K2 (elevation 8,612 meters or 28,253 feet), for example, is known as the most technically challenging peak. But the great expedition of my life ended in being  the Kangchenjunga between Nepal and India ( the third highest peak). It has fewer 20 meters than the K2, but it had singularities of technical difficulty in climbing that revealed greater challenges. The conditions in which I climbed and the physical stress also contributed to that. I was going up alone until finding a fellow mountaineer of Ecuador, then we climbed together.
One of your books is named "Na mais alta solidão (In the highest solitude)", but climbing is a teamwork operation…
It is the work of a team until the day of reaching the summit. But above eight thousand meters, the others cannot do anything for you. There, we are left completely on our own. Along the way we go out and encourage the others, even those belonging to different expeditions. But then at this altitude if anything less fortunate happens, it is impossible to count on anybody's help. We have reached our limits so it is with difficulty that we get to move ourselves around. So just imagine the added difficulty in having to carry down another person, for example.
Did you already think on the day of retirement? Until when do you think you can go on climbing?
I will keep on climbing until the last day of my life. I have been improving in a progressive manner. Like a graph with ups and downs. I have already reached my peak and now I have to adapt to my present capabilities. When the time comes, I'll move to the backpacking, hiking and  the easy walks. For me, mountaineering is not only a sport, it is an activity, a way of life.
What is your next objective?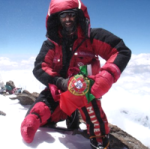 In the short term I will be heading for the Alps to climb 4.000 meters. I am going to do specific training and carry equipment on my back. Then I will go for holidays to Bolivia – I always choose destinations where I can also do some climbing. In the end of the year I'll go to another mountain. I will be renewing my sponsorship with Millennium BCP and when I feel ready I will find new quests, which I will announce in due time. Now I finished this challenge, but I want more. I'm ambitious in what I do and in what I believe that is possible to accomplish that has never been done before. It has to be given some considerable thought since I don't want to be taken for somebody who promises and then doesn't deliver.
More information:
Biography of João Garcia and projects completed
Facebook Fan Page (João Garcia)
Facebook Fan page (Created by Filipe Rodrigues)
Source: BoasNoticias.pt (translated by BestInPortugal.com)
Tagged as: annapurna, highest peaks, joao garcia, mountaineer, portuguese famous