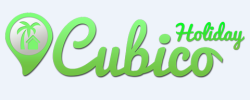 Have you ever had trouble in finding a new house and searching countless hours through the internet only to find yourself back to square one? Would it be helpful to find a resource online to be able to find a house to rent or to purchase for an extended stay or for holidays in Portugal?
To answer these questions, BestinPortugal has interviewed a young entrepreneur, Steve Saavedra who has, together with a partner, Bruno Santos recently launched Cubico.pt, a site designed to simplify the search of properties to rent or to purchase.
What are the origins of the home rental site Cubico.pt which lists homes and apartments for residential rent and for real estate opportunities? How did you come up with the idea?
The idea came in 2011 when one of the co-founders was looking for a home in Lisbon near his job. As we know, Lisbon is a large city and searching for a house is a daunting task because there are thousands of properties on the Internet and sifting through the chaff with hundreds of pages is quite frustrating: you end up without finding that "special place" that you where looking for.
The home he was looking for had to be welcoming and more importantly, it should be situated in a selected location, which was the foremost reason that led him to seek for a new home. This last requirement had a lot of weight in his search, because he only wanted places that where close to his job to avoid using public transportation and also to make a minimum use of his car. With society's hectic pace where time is always short, the ideal location for his home was to be within walking limits or in using his bicycle for his daily commuting thus avoiding Lisbon's traffic. He was looking for a way to revolutionize the searching of property on the internet and help users find a new home through an easy, fast and intuitive search.
With this idea in mind, in late 2012 Cubico.pt was created, hosting hundreds of properties for free and placing them on a map to readily display their location.
Is there any special reason for choosing the name of the site "Cubico"?
Yes, there is! Cubico (in English, Cubic) is the volume of a three-dimensional object which represents the three main areas of Cubico: Cubico Home, Cubico Holiday and the last which is a surprise that can't yet be revealed!
What are the advantages of using Cubico to search for a home to buy/rent or to spend a holiday in?
The main points of differentiation for those who have a property is that they can place a free ad, which is revised by our team thus providing greater security and effectiveness for our visitors. In terms of search engine, this enables quick and efficient responses to those looking for a place to live or to enjoy a holiday in a specific location.
How many properties do you have listed in your database until now?
At present we have about 300 properties in Cubico and this number increases daily so we hope to reach 3000 by the end of the year, without any investment in advertising.
Wouldn't a property listing aggregator like the US based site Trulia be easier to create than to build a site from scratch?
In essence Cubico has a very specific purpose: to help users find a place in a location of choice that really interests them. On this basis, the entire website was developed to accommodate the needs of those who are looking for a place to live or to enjoy a holiday. It would definitely be easier to use ready-made templates, however, we would not be focusing on the needs of the user, hence giving little importance to the location of the property. This led to the creation of Cubico, which focuses on the needs of the user in offering very relevant results to their search criteria.
Is a translation function of the listings in other languages in the works for those that don't understand Portuguese?
Yes, we are aware about the importance of foreign tourism, and we are working on this function for those who want to visit or move to Portugal. In fact we are presently looking for the best way to do that, maybe integrating the Google Translate function or perhaps building our own translation tool.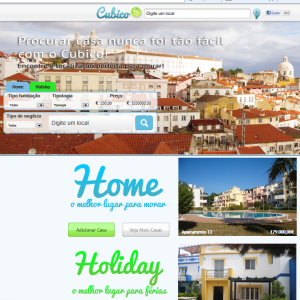 What are the difficulties that you have encountered in creating the business?
The difficulty has been in educating people and showing that Cubico can really help them in this unfavorable economy with the opportunity of inserting ads completely free. Many people are more concerned about how we make a profit from our business than on the valuable help and benefits that our site can bring to them.
Do you believe that the hard economic times that we are facing are an opportunity for the creation of new businesses or on the contrary, it makes it more difficult for their foundation?
Yes, no doubt these harsh economic times are good opportunities to create new businesses! Portugal is a risk averse country and this is reflected in its development, but gradually it is taking conscience (especially young people) that it is necessary to innovate, and we need to take more risks. Today there are several possibilities for entrepreneurs to launch their businesses, because working with new technologies leads to slashing down startup costs, since the idea to create a new business is normally based on the founders' know-how. Furthermore there are several supports for entrepreneurs such as crowd funding, business angels and business incubators. This is therefore an excellent opportunity for entrepreneurs to rethink and adapt current business models for this highly competitive and crowded market.
Did you already have an Entrepreneurial background or is this your first business venture? Could you give a brief bio on the founding members of Cubico?
I (Steve Saavedra) already had an entrepreneurial background: when I was twelve years old I started to build my firsts websites and Bruno also had some projects related with personal websites, but this is the first time that we combine our strengths to make something together, and I would say everything's running very smoothly! About us, Bruno Santos has a degree in Computer Science by ISTEC – Instituto Superior de Tecnologias Avançadas, is an expert programmer with an extensive professional experience and applies his expertise daily to spur Cubico's growth. I, Steve Saavedra, graduated in Management by the ISCTE Business School and am currently attending a Master's degree in Marketing at ISEG – Instituto Superior de Economia e Gestão.
Do you believe that Portugal lacks entrepreneurship or is it because entrepreneurs in Portugal are not sufficiently promoted and that we have to let more innovative entrepreneurs like you speak louder?
I think the problem is not about entrepreneurship, in fact we have been creating entrepreneurs with great quality in this country. The big problem focuses on the retention of these entrepreneurial initiatives within Portuguese borders. Portugal does not keep their talented people home and ends up letting them escape to other countries that willingly accept and invest in them. Another major problem is the lack of support in initiatives that convert into business. Many ideas win awards but do not translate into investment partnerships and eventually end up in missed opportunities. Finally, the lack of promotion discourages entrepreneurs who could be promoted through the media to have their businesses better known or maybe known by the public.
Do you have plans to expand this business beyond the national borders or is it still too early to think about it?
It makes part of our strategy to internationalize Cubico, but it still too soon for that, maybe next year!
Any final thoughts that you would like to add?
Yes! If you have a purpose that you consider unique, never give up on your dreams and make it real and desirable! This is what we do every day in Cubico – helping people to find the best place for living or holidaying in Portugal!
To learn more about Cubico, visit their website and their Facebook page.
Tagged as: Entrepreneurship, innovation Portugal