An exclusive interview for bestinportugal with Jorge M. Serpa, author of the tour guide "Slow Roads! Beautiful Drives Through Portugal for Cars & Motorcycles" (December 2011) has selected thirteen scenic drives for cars and for motorcycles, that takes us to the best of Portugal's countryside and historic towns, with suggested stops for sampling the Portuguese cuisine.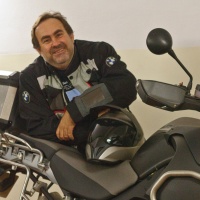 Could you give a brief bio about yourself?
I was born in Lisbon in 1960 and in 1966 I moved with my parents to Mozambique. We lived there until soon after the Portuguese revolution in 1974, when we moved back to Portugal. In 1977 the whole family moved again, this time to Venezuela. I lived in Venezuela until 1979, when I moved to the US to go to college. I completed this first round of higher education at the University of Rhode Island, where I got a Bachelor of Science and an Master of Science Degree in Mechanical Engineering. In 1986, I moved back to Portugal to work in the public works and civil construction industry. I re-emigrated again in 1988, first to Bermuda and then to Mozambique. There I met my soon thereafter wife, a US State Department diplomat. Since then I have been living the gypsy life of diplomats, with "tours of duty" in Washington and New York (US), Rio de Janeiro (Brazil), Rome (Italy), back to New York, N'Djamena (Chad) and Paris (France). While in Washington, I decided to go back to university, this time to Georgetown University, where I got my MBA. Since then, and until my first retirement, I worked in the electrical energy business, with various assignments through Latin America. I am currently living in Lisbon, where I am the managing partner of Adamastor Travel, LLC. For a bit more on my most recent activities, see my family website or the website of Adamastor Travel. For yet a bit more, see the website [URI Alumni Association page of Jorge Serpa] 
Any interesting account that you would like to share from one of your travels?
Sailing back from Brazil to the US in 2000, I lost my sailboat's rudder 150 miles offshore from French Guiana. I ended up being towed by a fishing boat to Cayenne, and spending 2 weeks there while replacing the rudder. What a mess that was!  
With all the international travels that you have made and all the places that you have visited, what compelled you to write the book "Slow Roads! Beautiful Drives Through Portugal for Cars & Motorcycles"? What made you choose Portugal?
Portugal is an absolutely wonderful place, but not enough has been done to sell it. The truth is that we are very bad at selling our own country. To the best of my knowledge, until "Slow Roads! Beautiful Drives Through Portugal for Cars & Motorcycles" there wasn't one single touring guide for drivers in Portugal written in English. 
How many kilometers did you drive (including U-turns) to determine the thirteen best routes that are displayed in your book?
Per my estimates, I did somewhere in between 17,000 to 20,000 kms, almost all of them through secondary (and tertiary!) roads. 
Any anecdote from your journey through Portugal that you would like to uncover?
The beauty of drinking a glass of wine with the oldest "taberneiro" in Alentejo, at the Taberna do Manuel Gonçalves in Santa-Clara-a-Nova. 
Did it help to have a degree in mechanical engineering or you were fortunate enough not to have any mechanical problems on the road?
Most of the kilometers were done on my motorcycle (a BMW R1200 GS Adventure) or on my 4WD (a Nissan Patrol), both of them absolutely reliable machines!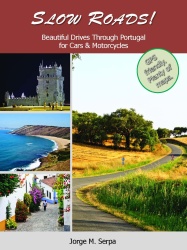 It is said that writing a book is transformational. What things are you seeing differently now than before writing the book?
As Bruce Springsteen said, "there I was one day, just a normal guy; and then there I was on the next day, good damn, I was still just a normal guy". 
Do you have any next project in mind that you would like to unveil?
"Dirty Roads! Beautiful Off-Road Drives Through Portugal for Cars & Motorcycles" 
Any final thoughts that you want to add?
Wherever you go, take the Slow Road! 
Jorge Serpa's book can be ordered through the website of Adamastor Travel
Tagged as: Book Review, Jorge Serpa, portugal authors, Tourism in Portugal