With its promise of long warm summers, dazzling sunshine and spectacular coastal views, Portugal has been attracting golfers from around the world for as long as anyone can remember.
It's not just the sun that's a massive pull factor for enthusiastic golf fans; Portugal also boasts fantastic courses and hotels which form part of luxury, purpose built complexes, including the likes of the extremely popular Vilamoura. Built in the 1970s, the resort has evolved and expanded to cater for golfers and travellers in search of a sophisticated and elegant destination.
What's more, no matter how dedicated a sports fan you are, it's unlikely that you're going to want to dedicate the entirety of your break to your sporting pursuit, no matter how much you love it. For travellers seeking a break from the course, Portugal's wonderfully rich culture and array of beautiful cities and towns make for welcome exploration and adventure.
Follow this guide to some of the best golfing opportunities that Portugal has to offer.
Algarve
At the centre of Portuguese golfing is the popular Algarve region, famous for its picturesque coastline and breathtaking beaches. Golfing is such a popular holiday activity in this part of Portugal, that companies like Golf Kings even specialise in tailor made Algarve golf breaks.
Arguably one of the most popular, and visually stunning, courses in Portugal is the world-famous Dona Filipa & San Lorenzo Golf Resort. Designed by award winning course architect Joe Lee and officially opened in 1988, this course has been ranked one of the best in the world.
Nowadays, the Eastern Algarve is becoming increasingly popular with travellers and golfers alike, the latter being attracted by the construction of exciting new courses and luxury hotel complexes. In a list of the best courses in Portugal , created by golfers with a passion for discovering the best golf in the world, the Monte Rei Golf Club in the Eastern Algarve is identified as number one.
The course occupies a fantastic spot between the Atlantic Ocean and the dramatic mountain vista, and outstanding views are a guarantee. The club is also home to two Jack Nicklaus Signature courses, so you can rest assured you'll be experiencing some fantastic golf.
For the time not spent on the course, the Algarve is the perfect place to relax and unwind as you enjoy the sandy beaches and clear blue waters. It's not difficult to see why the region is flooded by travellers during the summer months, although it is possible to escape the crowds during July and August by basing your stay in quiet, picturesque towns such as Monchique and Tavira.
Lisbon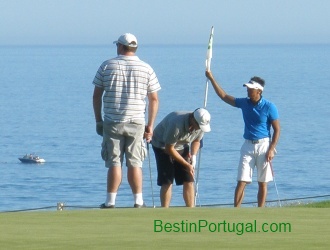 Even though the older, more established resorts like Vilamoura and Albufeira in the Algarve may continue to hold their position as the epicentre of Portuguese golfing holidays, newer destinations on the Lisbon coast are attracting more and more golfers each season.
One of the top attractions for golfers in this region is the Estoril Golf Club, which is the oldest course in Lisbon. Created in 1929, this serene, pine scented course also offers one of the more challenging games in terms of accuracy and is perfect for experiencing sportsmen and women in search of a new challenge.
Lisbon itself is a fantastic choice for travellers and offers a unique combination of a traditional, quaint Portugal and a modern, vibrant city that embraces party culture and a good time vibe. To discover more of what Lisbon has to offer, in addition to fantastic golf, take a look at this online guide from Lonely Planet.
Madeira
A quick hop south – or more accurately, a one and a half hour flight from Lisbon – lies the Portuguese island paradise of Madeira.
The way of life on Madeira may be much more laid back than mainland Portugal, but the quality of the golf is by no means inferior. Individuals travelling to Madeira can expect fantastic courses and equally luxurious hotels and complexes, including the likes of the Palheiro Golf course, nestled atop the mountains overlooking the ocean.
It's worth bearing in mind that Madeira shares its climate more with the likes of Morocco and the Canary Islands than it does mainland Portugal, so spending a full day on the course during the height of summer may be uncomfortable.
Follow scores of other golfers and make your way to Portugal for your next sporting break, as it is a golf destination that will set the bar in terms of outstanding greens with beautiful scenery and rich culture.
You might also like:
Tagged as: Attractions in Portugal, Portugal Golf